JAPANESE WAGYU
A Japanese Tradition, Refined Over 100 Years
Japanese Black purebred Wagyu are a Japanese tradition that has been refined for over 100 years. They are renowned for their genetic disposition which gives them the tantalising marbling they are international renowned for – the hallmark of genuine Japanese Wagyu.
Japanese Wagyu cattle are raised across 47 prefectures throughout Japan, with nutritionally balanced feeding regimens that are specific to each geographic location. As a result, each area's Wagyu has its own subtle characteristics and deep flavour profile, making it impossible to rate the different Wagyu in terms of superiority.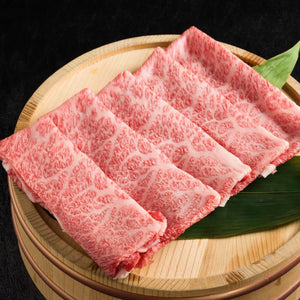 CERTIFIED AUTHENTICITY
Pedigree That Can Be Traced Across Generations
Japan is the only country in the world that registers every head of purebred Wagyu cattle. Within four months of being born, calves are examined and, if they meet the standardised requirements, they are granted an official Wagyu calf registration certificate at six months of age. This registration process allows for any calf to be traced back across three generations, documenting a clearly defined pedigree which includes the parents, grandparents and great-grandparents – all of which can be traced back to the ancestor of all Japanese domestic Wagyu from the 14th century.
WAGYU GRADING
Meticulous Quality Standards
Japanese Wagyu meat is assessed for quality via a grading system system that is divided into two categories:
1)  With the final meat ratio where A is for above average, B is for average, and C is for below average.
2)  With the meat quality grade which considers marbling, meat color and brightness, firmness and texture, luster and quality of fat. All four aspects are graded on a scale of 1 to 5, with 5 being the highest. The highest possible rank attainable is grade A5.